Boy Scout Troop 524

74 years of scouting at shiloh!
1941 – 2015 
Welcome and thanks for your interest in becoming a part of Pack/Troop/Crew 524, Washington, DC District.
The Boy Scouts of America's objective is to develop character, teamwork, problem solving skills, citizenship and personal fitness. Scouting not only provides you with experience, but also, memories for a lifetime for you and your child(ren).
Your assistance and continued support is needed by way of:
Encouraging support at home to read the scout/venturing manual and;
participation on the Parent Committee
Age requirement for Cub Scouts is 6-10 (grades 1-5)
Age requirement for Boy Scouts is 11-17 (grades 6-12)
Age requirement for Venture's is 14-20. Venturer is open to both girls and boys.
Annually Troop 524 has to re-charter, which requires that each scout pay the association affiliation/registration fee. 
The registration fee is $38.00. This fee covers the following:
$25.00 – affiliation fee to Boys Scouts of America
$12.00 – Boys Life Magazine
$1.00 – accident insurance
NO CHILD LEFT BEHIND
If you are unable to contribute all or part of this fee, please contact one of the leaders in order to make payment arrangements or seek sponsorships.
Activities for Troop 524 include camping, hiking, community service, and fun activities ranging from bowling, ski trips and more.
If you have any concerns, please feel free to contact any of the Leaders or Committee members of Troop 524. We encourage your participation on any of the activities and the Parent Committee.
Again WELCOME
Committee Chair/Recharter: Gloria Bell, 301-503-8774
Scoutmaster: Chuck Hall II, chall54@hotmail.com, 202-744-9405
Venturers: Braun Cameron, bcameron158@hotmail.com, 443-336-3119
Cubmaster: John Marshall, jrmarshall2593@hotmail.com, 301-310-7279
Shiloh Friends of Scouting (SFoS): John Barber, buenavistajb@aol.com,
202-744-3003
Cub Scout Pack 524
Dear Visitor,
Cub Scout Pack 524, a Pack affiliated with Troop 524 of Shiloh Baptist Church. If you have any questions, or if you are considering enrolling your son in the program, please feel free to visit their official Cub Scout Pack 524 website for more information.
Scoutmaster James Court
jamescourt@Hotmail.fr
Day & Night Cell: (202) 297-8069
Eagle Scouts
74 years of scouting at shiloh!
1941  –  2015
The Shiloh scouting program is proud to share in the rich history of Boy Scouts of America.
The programs at Shiloh have been in existence for 74 years and consist of the Cub Scouts, Boy Scouts, and the Venturers (co-ed). The scouting program is to be an anchor of an urban village that focuses its ministry on body, mind and soul for persons of all cultures and races from the cradle to the grave. The Shiloh scouting program is preparing young men and women to make ethical and moral choices over their lifetime by instilling in them the values of the Scout Oath and Law.
Boy Scouts of America's mission is to prepare young men by developing http://www.shilohbaptist.org/uploads/eagle-scout-pinned-1.pngcharacter, teamwork, problem solving skills, citizenship and personal fitness. The highest honor bestowed upon a Boy Scout is earning the rank of Eagle Scout. The fact that a boy is an Eagle Scout has always carried with it a special significance, not only in Scouting but also as he enters higher education, business or industry, and community service.
Nevertheless, the goals of Scouting—citizenship training, character development, and personal fitness—remain important for all Scouts, whether or not they attain the Eagle Scout rank. To earn the Eagle Scout rank, a Boy Scout must fulfill requirements in the areas of leadership, service, and outdoor skills. Although many options are available to demonstrate proficiency in these areas, a number of specific skills are required to advance through the ranks—Tenderfoot, Second Class, First Class, Star, Life, and Eagle. To advance, a Boy Scout must pass specific tests that are organized by requirements and merit badges. Troop 524 is proud to have seventeen scouts that have reached the rank of Eagle in the history of the troop at Shiloh.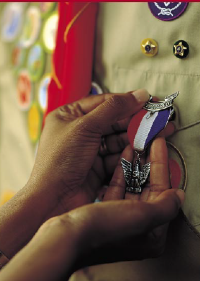 1. Gregory Bingham (11/1982) 10. Malik K. Williams (02/2009)
2. Terrence Carroll (02/1987) 11. Leslie A. Petersen, Jr. (04/2009)
3. Letroi Nicholson (09/1988) 12. IIyas Anthony Woolbright, Jr. (12/2009)
4. Henry C. Gregory IV (10/1990) 13. John R. Marshall (02/2011)
5. Herbert M. Johnson III (12/1992) 14. Sanford S. Booth II (04/2011)
6. Jerrin Holdip (05/1997) 15. Blake Garrett (04/2012)
7. Desmond Cole (08/1995) 16. Travis S. Jones (07/2012)
8. Jamil Smart (05/1997) 17. Kyle Gadson-Pusey (05/2014)
9. Grant Evans (01/2008) 18. Jacobi Glover (11/2015)
19. Ahmad Garcia
In addition to producing seventeen Eagle Scouts, Troop 524 has distinguished itself by being the first African-American boy scout troop, among those invited, to attend the White House Easter Egg Roll in 1980, attendance at the Inauguration ceremony of President Ronald Reagan in 1981, the Lenhoksin High Adventure Trail in 1982 (and for several years afterwards) and the Philmont Scout Ranch in New Mexico in 1982.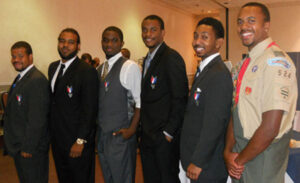 Since 1980 the troop has participated at Goshen summer camp in southwestern VA. The Goshen Camp offers a wide variety of camping experiences for all levels of scouting. Scouting troops attend Goshen from across the country to earn merit badges, participate in high adventure activities and also compete amongst each other to test their scouting skills and leadership. Our current troop has recently won numerous honors while attending Goshen which includes "Troop of the Week". Troop 524 also participates in the local Banneker Districts Fall and Spring Camporees which they have won 1st Place numerous times. Over the years we have had some extraordinary leaders that have volunteered their time to sustain the scouting program at Shiloh. The current leaders and scouts of Troop 524 wish to thank its former Den Leaders, Scout Masters (SM) and Assistant Scout Masters (ASM) – Samuel Dallas, Deacon Abraham Bethea, Deacon James Hider (Deceased), Horace Bradshaw Sr., Deacon Donald Carter Jr., Deacon Ronald Felton, Emerson Dean, Braun Cameron, John Holmes, Lorenz Curry, Charles C. Gray III, James Williams, Willie Weddle (deceased), Eagle Gregory Bingham, Eagle Henry C. Gregory, III, Eagle Jerren Holdip, Illyas Woolbright, Sheila Evans, Donna Southern, Eagle Jamil Smart and Eagle James Court.
We would also like to thank former SFoS members that have assisted the troop by serving on the scout committee: Kentrell Jones, Sr., Yvette Nickerson, Elmoree Davis, Ramona Davis, Harold Hamilton, Marie Hamilton, Moses Johnson, Louise Lewis, Deacon Carl P. Lee (deceased), Deacon G.F. Bingham (Deceased), Deaconess Joyce Bingham, Deacon William Thomas, Deacon Nathaniel Williams, Deacon Earnestine Smart, Deacon Gilbert Joyner, Deacon Willie Weddle (deceased), Dr. Samuel Metters, Deacon Jerome Navies, Deacon Sonja Ray, Paul Ray, Deacon Charles Hall, Deaconess Judy Hall, Frances Gibson (Deceased), Euna Smith (Deceased), George Graham, Pat Cole, Muriel E. Gregory, William D. Thomas, Emerson Dean, Deacon Abraham Bethea, Charles C. Gray III, Corrine Carroll (Deceased), Braun Cameron, Tiwanda Cameron, Eagle Gregory Bingham, Ophelia Greer, Sheila Evans, Stephanie Woolbright, Loretta Garrett, Anita Jordan, Rita Bibbs-Booth, Sanford Booth, Sr (deceased), Leslie Petersen, Sr., Joy Petersen, Angela Marshall, and Michelle Gadson-Pusey.
The troop committee is the back bone of the troop. The committee ensures that quality adult leadership is recruited and trained, carries out the policies and regulations of the Boy Scouts of America, responsibly manage finances, conducts board of reviews, and supports the Scoutmasters. The current committee comprises of:
Chuck Hall II, Scoutmaster Grant Evans, Assistant Scoutmaster
Gloria Bell, Chair (Vacant), Co-Chair
Victoria Roscoe, Advancement Chair John Barber- Treasurer
Catherine Garcia, Secretary Victoria Roscoe, Fundraiser Chair
Charter Representative – Gloria Bell George Graham, Eagle Advisor
Howie Perlman, Eagle Advisor Angela Marshall, Eagle Advisor
Raymond Diggs, Eagle Advisor Deaconess Judy Williams, Historian
Any young man interested in becoming a part of Troop 524, contact Scout Master Charles Hall, II, 202-744-9405, for more information. If interested in becoming a Shiloh Friend of Scouting (SFoS) contact John Barber, 202-744-3003.
Remember scouting exists because of the special people who serve as volunteers and supporters. Help us continue our rich tradition of scouting at Shiloh. We thank you for your support throughout the years