We seek to be a resource for those who are curious about the history, meaning, and application of Christian stewardship principles and their requirements
At Shiloh, the formal leadership of the Stewardship Ministry rests with the pastor, the Board of Trustees, and the chairs of the Ministry of Deacons and Deaconess Ministry. Shiloh's Standing Stewardship Committee, which has taken as its mission of being "the arms and legs" for Shiloh's Stewardship Ministry, developed the Stewardship Section and will endeavor to keep its material current and engaging.

It is our fervent desire that this resource is beneficial to all who seek to enhance their knowledge of Christian stewardship, and how its application plays a role in building God's Kingdom not just at Shiloh, but here on earth.
All Scripture is inspired by God and profitable for teaching, for reproof, for correction, for training in righteousness; so that the man of God may be adequate, equipped for every good work.
When we talk about stewardship within the context of the Christian life, we mean God is the owner of all things. These resources would be anything and everything He has given us. This would be our salvation, the gospel message, our churches, our education, our time, our energy, our thought life, the words we speak, the house in which we live, the cars we drive, our children, our spouse, our finances, our job.
i must give: time, talent, and treasure
OFFERING OUR PRAYERS, PRESENCE, GIFTS, SERVICE, AND OUR WITNESS
Good Morning Shiloh, Rev. Smith, pulpit ministry, all Shiloh ministries, and all of our Shiloh's listening congregation. Let us all be thankful for God's blessings of this new day. I am Fran Lewis-Steiner, and our pastor, Rev. Wallace Charles Smith, has asked me to take the lead in a new ministry, that I named 'The Greener Stewardship Ministry'. Greener as it relates to our awareness, care, and responsibilities to our physical environment, our one and only earthly home. Stewardship, Christian Stewardship, because it is inclusive of caring for and resourcefully managing the abundance of resources God has given to us here on earth. Water, air, flowers, sunshine, rain, trees, fertile soils from which our life sustaining foods grow, and the list continues. I invite all of Shiloh to join me in this ministry. Let us start with recycling. God through nature has given us many models. Nature recycles – Let's look at a tree for example – it geminates, grows up, produces fruit & shade, it ages, it dies, decays, serves as food for fungus, bacteria and other microbes, it becomes part of the soil, serving as fertilizer, enabling other trees to germinate, grow and continue 
Another example – all of us appreciate a clean refreshing drink of water but there is no new water. God gave our earth all the water it needed at the beginning and a recycling model to copy. In God's model, he sends the rain, – precipitation, it's absorbed by trees and grass and soaks into the ground – percolation, it's cleaned through infiltration, moves to the ground water giving us springs, wells, etc.; simultaneously, water moves to the sky from the oceans, rivers and lakes by evaporation, from the trees and grasses by transpiration and evapotranspiration; in the sky, water cools – condensation – making clouds; the clouds experience saturation which leads again to precipitation. Today using wastewater treatment plants God has allowed us to create this recycling technology to precipitate, percolate, evaporate and infiltrate our water and make it clean again and again for our daily use.
Through our Greener Stewardship Ministry, we hope to provide throughout Shiloh designated containers and informative signs encouraging each of us to always recycle. Until this is formally established here at Shiloh, I encourage all of us to start at home. Most of the things we use can be recycled – paper, cardboard, cans, bottles, the many plastics – on used containers look for the number inside the recycle symbol. If it is 1 through 6, recycle. It's less expensive and less of an abuse to our nature resources to develop new products from recycled materials, fewer landfills (one of the greatest air, water, and soil pollutants) will need to be built. If more landfills are built, whose neighborhood will the policy makers decide to use?
Remember, if someone says to you, "Don't recycle, just throw it away," remind them that there is no AWAY! Everything we trash has to go somewhere on this one earth God gave us.
Let's start today – join with me and become a member of this ministry. Use the few recycling containers Shiloh has already. At home, adopt the habit of recycling whenever possible. Let us all use God's models and become Greener Christian Stewards wherever we are, in our homes or Shiloh, here at 9th & P.
Prove the Tithe Pledge Card
Allow the Lord to pour out his blessings by pleading your commitment to be a tither. Complete this card and return to a Deacon Leadership member.
a new beginning in stewardship
"Bring ye all the tithes into the storehouse that there may be meat in mine house, and prove me now herewith, saith the Lord of hosts, if I will not open you the windows of heaven, and pour you out a blessing, that there shall not be room enough to receive it." Malachi 3:10
"Woe to you, teachers of the law and Pharisees, you hypocrites! You give a tenth of your spices-mint, dill and cumin, But you have neglected the more important matters of the law-justice, mercy and faithfulness. You should have practiced the latter, without neglecting the former. " Matthew 23:23
Tithers: In response to God's love for me an in obedience to God's expectation of me,
" And now, behold, I have brought the first fruits of the land, which thou, O Lord, hast given me" - Deuteronomy 26:10
TITHING GUIDANCE FOR MY NEW BEGINNING IN STEWARDSHIP IN 2016
| MONTHLY | | B-WEEKLY | | WEEKLY | |
| --- | --- | --- | --- | --- | --- |
| Income | Tithe | Income | Tithe | Income | Tithe |
| $10,000 | $1000 | $5,000 | $500 | $1000 | $100 |
| $9000 | $900 | $4500 | $450 | $900 | $90 |
| $8000 | $800 | $4000 | $400 | $800 | $80 |
| $7000 | $700 | $3500 | $350 | $700 | $70 |
| $6000 | $600 | $2500 | $250 | $600 | $60 |
| $5000 | $500 | $2000 | $200 | $500 | $50 |
| $4000 | $400 | $1600 | $160 | $400 | $40 |
| $3000 | $300 | $1000 | $100 | $300 | $30 |
| $2000 | $200 | $500 | $50 | $200 | $20 |
| $1000 | $100 | $450 | $45 | $100 | $10 |
| $900 | $90 | $350 | $35 | $50 | $5 |
| $800 | $80 | $300 | $30 | $25 | $2.5 |
Financial Peace University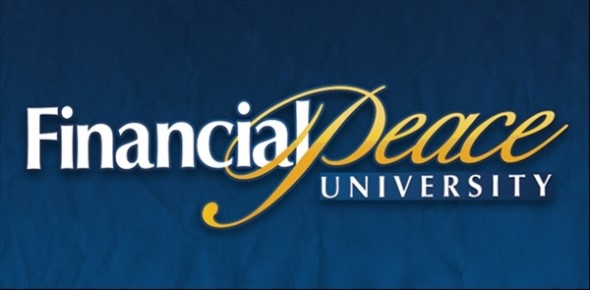 Mission Statement: To empower and give hope to everyone from the financially distressed to the financially secure. FPU teaches financial stewardship – how to manage 100% of what God has given. Dave Ramsey does all the teaching in 13 video lessons. Dave is a personal money management expert, an extremely popular national radio personality and best-selling author of The Total Money Makeover. Other books he has written include New York Times best sellers Financial Peace and More than enough. The class consists of an exciting lecture by Dave and discussion questions relating to what has been heard during the video presentation.
The average family reduces their debt by $5,300 and saves $2,700 during the 13 week period.
Financial stress begins to dissipate throughout this program.
With the burden of debt lifted, families are able to give more to support worthy ministries.
Teaches families to handle God's money God's way.
Session #1 – Super Savers
Session #2 – Cash Flow Planning
Session #3 – Relating With Money
Session #4 – Buying Only Big, Big Bargains
Session #5 – Dumping Debt
Session #6 – Understanding Investments
Session #7 – Understanding Insurance
Session #8 – Retirement and College Planning
Session #9 – Buyer Beware
Session #10 – Real Estate and Mortgages
Session #11 – Careers and Extra Jobs
Session #12 – Collection Practice and Credit Bureaus
Session #13 – The Great Misunderstanding
( The classes are offered on Wednesday evening from 6:30 to 8:00pm. )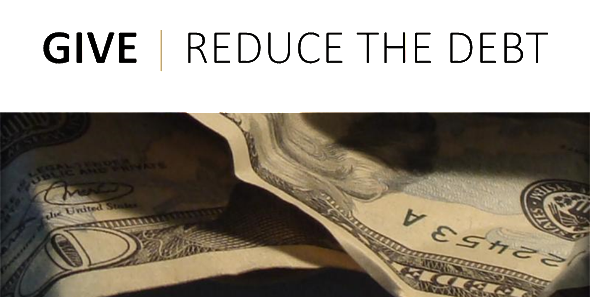 Paying off our debt will unleash us to continue the pursuit of our purpose and expand our mission in the years ahead. With each member praying and financially supporting this effort as God leads them, we can fulfill our dream of an incredible future in the decades ahead not only for us, but for those who follow us.
"All things are possible with God." Matthew 19:26
For every dollar we sacrificially give to pay off our debts today, a dollar is unleashed in an exponential way into ministry and mission of our church. We have two choices: pay the bank or unleash ministry. The monthly mortgage payment with our bank is more than $40,000 and the mortgage is structured to be paid off by 2029
Pray for the mission and ministry of Shiloh!
Talk with your family about debt—your own and the church's.
Share your enthusiasm with other church members.
Examine your finances to position yourself to pledge over the next 36 months, give a one-time gift, or as you can over the next three years to Shiloh's debt reduction campaign.
Jump in and see what God can do in and through you!
frequently asked questions
Adventure In Thanks/Giving
Source: http://www.abc-usa.org/what_we_believe/mission/stewardship/stewardship-resources/http://www.abc-usa.org/what we believe/mission/stewardship/stewardship-resources/
Stewardship
Baptist Faith and Message, Article 13
by Douglas Walker
Vice President for Institutional Advancement
Walker is vice president for institutional advancement
at Southern Baptist Theological Seminary
in Louisville, Kentucky
A full exegesis of Article 13 of the Baptist Faith and Message would consume a lengthy volume and yield fruitful discourse. At least three topics deserve our attention here.
First, God owns everything, and therefore we are to be stewards of all he gives us. A basic tenet of a Christian worldview holds that God is the Creator of the heavens and the earth. As Creator he thus owns all that is or ever will be. He owns our lives and bodies, our health and welfare, our goods and possessions and even the air we breathe.
In his wisdom and providence, he has placed in our hands and at our disposal certain blessings and gifts for our use for his glory. We, in turn, are thus responsible for using his blessings for his glory, our benefit and the welfare of others.
The parable of the talents in Matthew 25 makes clear that our responsibility is to multiply the gifts given to us by God. A thoughtful stewardship of all that we have is part of our Christian discipleship.
A second topic for our consideration is the command given in Scripture for us to give "cheerfully, regularly, systematically, proportionately, and liberally …" to the Lord's work.
The command to tithe is clearly given in the Old Testament. Some have argued that since the tithe is not mentioned in a positive way in the New Testament, the tithing injunction does not apply to Christians.
In 1 Corinthians 16:1-2 Paul says, "Now concerning the collection for the saints, as I directed the churches of Galatia, so do you also. On the first day of the week each of you is to put aside and save, as he may prosper, so that no collection be made when I come." And again in 2 Corinthians 9:6 he writes, "Now this I say, he who sows sparingly will also reap sparingly, and he who sows bountifully will also reap bountifully."
The New Testament teaches that Christians should give even above the tithe as God so blesses. The tithe is not done away with in the New Testament, but a greater principle of giving is placed upon the disciple of Christ. Christians are to give sacrificially as God blesses them.
Jesus commends the widow in Mark 12:41-44 who had put into the treasury "more than all the contributors" because she "out of her poverty, put in all she owned." May the Lord find us faithful in giving above and beyond the tithe.
A final topic mentioned in Article 13 is the motivation for our stewardship – the glory of God and the benefit of others. Stewardship obviously involves more than our income or possessions but refers to every aspect of our lives.
Giving of our means is part of true Christian worship. Taking care of our bodies likewise is part of our stewardship so that we can serve God with all of our might. We work in order to be able not only to provide for ourselves and our families, but so that we might give to the Lord's work.
Southern Seminary has been blessed by those who were so motivated that, for God's glory and the benefit of the Kingdom, they have provided money to help train, educate and prepare God-called men and women for faithful service.
In our materialistic society we must challenge believers to work not for bigger houses and better cars, but so that they might give to the Lord's work around the world. God's glory should be the driving force behind how we use all the gifts and possessions that God has placed in our care.
At the end of our lives may we be found as faithful stewards of all that he has entrusted to us.
Source: http://www.baptist2baptist.net/b2barticle.asp?ID=256
"These selected scriptures, among the many in the Bible, pertain to Stewardship:
Genesis 2: 15
Genesis 28: 20-22
Exodus 35: 29
Leviticus 27: 30
Deuteronomy 16: 17
1 Chronicles 29: 13-14
Psalm 24: 1-2
Psalm 96: 8
Proverbs 3:9
Proverbs 16:3
Malachi 3: 10
Matthew 6: 19-21
Matthew 23: 23
Matthew 25: 14-29
Mark 12: 41-44
Luke 11: 42
Luke 12:48b
Luke 16: 2-4; 16: 11
John 3:27
Acts 20: 35
Romans 12: 1-2
1 Corinthians 4: 1-2
1 Corinthians 16: 2a
2 Corinthians 8: 9
2 Corinthians 9: 7
Colossians 3: 23-24
1 Timothy 6: 17-19
Hebrews 7: 1-10
1 Peter 4: 8-10"
Standing Stewardship Committee
Elizabeth Adams, Deaconess
Keith Anderson
Mary E. Buckley, Deaconess
Patricia Cherry, Deacon
Brenda Crutchfield, Deaconess
Roland Edwards
Latecia Engram
Mattilyn N. Green, Deaconess
Rochelle Hardy, MD
David Hayes
Evelyn Hider
Elias E. Kibler, Deacon
Charles Lowery
Gladys Myatt
Lavinia Thorton Odejimi
Gregory Prioleau
Edith R. Roberts
Charles D. Smith, Deacon
Gilbert A. Smith
Theodore J. Smith
Margaret Williams
:Linda Winfrey, Deacon
Patricia Cherry, Deacon
Latecia Engram
Mattilyn Green, Deaconess
David Hayes
Pam Irving, Deaconess
Elias Kibler, Deacon
Charles D. Smith, Deacon
Frank Walker
Davina Wiggins
Linda Winfrey, Deacon
Testimonies and Reflections